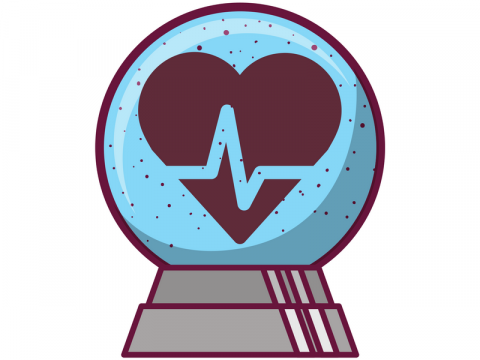 This post is courtesy of a mentor, forever instructor (Functional Medicine University), and an example of what healthcare should be, Dr. Ronald Grisanti D.C., D.A.B.C.O., D.A.C.B.N. M.S. 
As a reader you have learned that elevated fibrinogen, hsCRP, a CT heart scan and homocysteine are among the many known risk factors for progressive heart disease.
It now turns out that there is a blood test that is an even a better indicator than any of these, especially if they are all normal. The test is simple and inexpensive and readily available and reliably shows the level of cardiovascular risk you are at.
For one, this test can show if you need bypass surgery or an implantable defibrillator, and whether even without any symptoms, if you are headed for heart failure.
What is so sad is even the most prestigious medical facilities like Cleveland, Mayo, Johns Hopkins, Harvard, etc. as well as from practitioners who claim to practice alternative, state-of-the-art or advanced medicine rarely if ever check this life-saving test.
—
The test? BNP.
It stands for brain natriuretic peptide, mainly because it was first discovered in the brain over 10 years ago. It is actually a hormone made in the ventricles of the heart which is the main pumping muscle of the heart.
It is a well-established marker for the diagnosis of heart failure and a predictor of death in people who have stable coronary disease with no symptoms and are told that they are "doing just fine"
What is most important is there are no drugs that can fix it, only nutrients.
Research shows that people with a level of over 400 are eight times more likely to die in the next 1-5 years than folks with levels under 100 ng/liter.
As noted above, the test is commonly used to diagnose heart failure,  however, it turns out BNP can show if the heart is suffering from ischemia (not enough oxygen delivered to the heart muscle) even though the patient may not be experiencing angina or chest pain or arrhythmia or have any signs of it on EKG, echocardiogram, etc.
No other test comes this close to being as useful a crystal ball since it predicts long and short-term death, independent of other conventional test.
Additional studies show that having a level just over 80 pg/mL of BNP can raise the incidence of death in the next year 5-fold.
And others have confirmed that levels over 500 of BNP can predict risk of heart attack 5-8-fold within the next four years. And rememer this is independent of any other studies, x-rays or blood tests. Remember, these are in people who think they are "stable" and have been told by their cardiologist that they are "doing just fine".
Even though this crystal ball test has been known for quite a while, cardiologists in general do not use it because (1) first there is no drug to correct it. And the (2) second reason they don't use it is because they are not trained in what is causing the problem in the first place, just interventions to mask the symptoms. 
Need help?  You know how to find me.
References:

Doust JA, et al, A systematic review of the diagnostic accuracy of natriuretic peptides for heart failure, Arch Intern Med 164:1978-84, 2004
Rogers Sherry, Total Wellness, Prestige Publishing, April 2013
Mega JL, et al, B-type of natriuretic peptide at presentation and prognosis in patients with ST-segment elevation myocardial infarction: an ENTIRE-TIMI-23 substudy, JAm Coll Cardiol 44:335-9, 2004
James SK, et al, N-terminal pro-brain natriuretic peptide and other risk markers for the separate prediction of mortality and subsequent myocardial infarction in patients with unstable coronary artery disease: a Global Utilization of Strategies To Open Occluded Arteries (GUSTO)-IV substudy, Circulation 108:275-81, 2003
Kragelund C, et al, N-terminal pro–B-type natriuretic peptide and long-term mortality in stable coronary heart disease, New Engl J Med 352:666-75, 2005
Omland T, et al, B-type natriuretic peptide and long-term survival in patients with stable coronary artery disease, Am J Cardiol, 95:24-8, 2005
Schnabel R, et al, Analysis of N-terminal-pro-brain natriuretic peptide and C-reactive protein for risk stratification in stable and unstable coronary artery disease: results from the AtheroGene study, Eur Heart J 26:241-9, 2005
Schnabel R, et al, B-type natriuretic peptide and the risk of cardiovascular events and death in patients with stable angina: results from the Athero-Gene study, JAm Coll Cardiol 47:552-8, 2006
Wang TJ, et al, Plasma natriuretic peptide levels and the risk of cardio-vascular effects and death, New Engl JMed 350:655-63, 2004
Kistorp C, et al, N-terminal pro-brain natriuretic peptide, C-reactive protein, and urinary albumin levels as predictors of mortality and cardiovascular events in older adults, JAm Med Assoc, 293:1609-16, 2005
Marz W, et al, N-terminal pro-B type natriuretic peptide predicts total and cardiovascular mortality in individuals with or without stable coronary artery disease: the Ludwigshafen Risk and Cardiovascular Health Study, Clin Chem 53; 6:1075-83, 2007
Goetze JP, et al, Increased cardiac BNP expression associated with myocardial ischemia, FASEB J 1106; 17:1105-7, 2003
D'Souza SP, et al, B-type natriuretic peptide: a good omen in myocardial ischemia? Heart 89:707-9, 2003
Ribeiro AL, Natriuretic peptides in acute myocardial infarction, Brit Med J 338:1154-5, 2009
Tapanainen JM, et al, Natriuretic peptides as predictors of non-sudden and sudden cardiac death after acute myocardial infarction in the betablocking era, JAm CottCar*iol43; 5:757-63, 2004   
Oremus M, et al, A systematic review of BNP is a predictor of prognosis in persons with coronary artery disease, Clin Biochem 41:260-5, 2008
Bibbins-Domingo K, et al, N-terminal fragment of the prohormone brain-type natriuretic peptide (NT-proBNP), cardiovascular events, and mortality in patients with stable coronary heart disease, JAm Med Assoc 297:169-76, 2007
Morrow DA, NACB Writing Group, National Academy of Clinical Bio-chemistry laboratory medicine practice guidelines: clinical characteristics and utilization of biochemical markers in acute coronary syndromes, Circulation 115: e356-75, 2007
Weidemann A, et al, Hypoxia, via stabilization of the hypoxia-inducible factor HI F-1 alpha, is a direct and sufficient stimulus for brain-type natriuretic peptide induction, Biochem J, 409:233-42, 2008