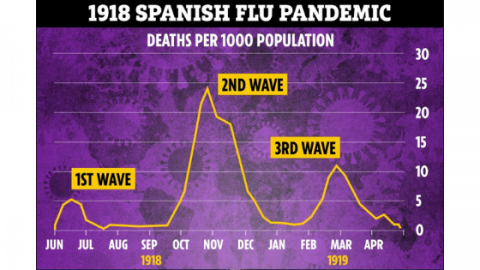 Lots of memes are going around social media platforms that warn of the 2nd wave of COVID-19 in the fall. They are often captioned with a reference to the Spanish Flu of 1918-1919. So let's take a look why this will happen under current circumstances and how it has to be mitigated. This mitigation has nothing to do with medical intervention.
REASON #1: DECREASED EXPOSURE – GREAT SHORT TERM, NOT-SO-MUCH LONG TERM
In order to build immunity, we need exposure. Could it be that the 2nd wave of the 1918 Spanish Flu occurred because there was too much isolation during the 1st wave?
Healthy people need to get out of the homes and into the world. Quarantine the sick but liberate the healthy. As more antibody testing comes out, hopefully this confirms that many more have been exposed, recovered, and are able to resume life.
Like always, you're going to argue the exception to the rule and think this is irresponsible. I'm sure you're going to cite that one person you heard about on the news that was super healthy that got sick with COVID. This doesn't discount that the reality of the issue that 94% of cases have co-morbidities like obesity, diabetes, cancer, etc.
This leads to the second reason for the second wave.
REASON #2: WE STILL HAVEN'T ADDRESSED THE REAL RISK FACTORS – IT'S NOT THE VIRUS, IT'S THE HOST
What do the months October, November, and December have in common with a prime time for a 2nd wave of COVID? It's the same reasons that those months are typically the start of the 'flu season.'
Halloween
Thanksgiving
Christmas
Sugar, sugar, sugar, and no sunlight. People purposely ignore the factors that build health to gorge and binge themselves into a metabolic, toxic mess in the name of upholding tradition.
The uncomfortable truth about COVID-19 (and other respiratory infections) is that those effected the greatest are those with underlying metabolic illness. This is really becoming the survival of the metabolically fit.
If enjoying life, being there for your kids, and looking good isn't enough to motivate you to start taking your health seriously, then how about drastically decreasing your chances of ending up in the hospital from COVID?
If you want to prevent a second wave of COVID, decreasing exposure isn't the answer. Maybe we should consider that in our 'learning from history.' All these memes tell us 'what' but they never tell us 'why.' With current trends in 2020, we know exactly who has the greatest risk of hospitalizations. Let's eat that uncomfortable truth of an elephant in the room one bite at a time.
Not sure where to start?