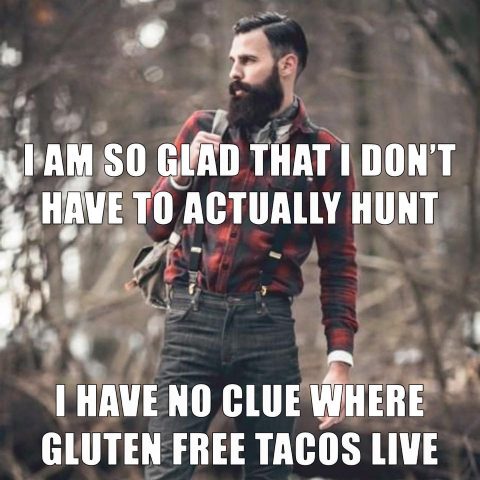 My last post was about about breakfast, I mean dessert.  What's the difference?  The point of it is that if you break down the ingredients in your typical breakfast, it's nothing more than dessert consumed early in the day.  My suggestion was that maybe you should skip it.  I thought that was pretty clear but then got tons of feedback with questions about what should they eat for breakfast?
Let me be clear.  Breakfast isn't that important.  What sparked my writing of the last post was the news of the researchers being paid in the 1960's to shift the blame of heart disease away from sugar and onto fat.  Then one of those scientists becoming the head of the USDA's nutritional guidelines, which happened to start the 'fat is bad' campaign, brain washing you the past 40 years.
I feel I need to shed some light on another myth.
Breakfast is the Most Important Meal of the Day
Where did this come from?  It came from a major publication, Good Health.  I'm sure you have seen this in the check out lanes at your favorite grocery store or drug store.
Did you know it was once edited by Dr. John Harvey Kellogg?  And in that magazine in 1917, an article written called 'August Breakfasts' by Lenna F. Cooper makes a passing statement that breakfast is the most important meal of the day.  I don't know if Ms. Cooper was the first to ever say this but it becomes a catchy phrase to someone with the last name of Kellogg.  Yes, that Kellogg.
Dr. Kellogg, along with his brother W. K. (Will Keith) invented 'flaked cereal' years before that article was written.  Maybe the Kellogg bros started the phrase and Ms. Cooper was stating it as fact as she too had heard it over and over again.  After all, she was the Director of the School of Home Economics in Battle Creek, Michigan, which was also the unofficial cereal capital of the US, housing 42 other cereal companies at that time in history.  I'm sure the Kellogg guys weren't being manipulative, just providing a solution to the first problem most people face each day…something to eat that is quick.
For the last 100 years, you have been told and probably repeated that 'breakfast is the most important meal.'  It's a tough mantra to break as it seems pretty logical.  After all, you're breaking a fast from not eating all night.  You probably need nourishment and calories to get the day started, right?  Therefore, it's the most important meal.
Except That It Isn't.
You already possess an early morning engine revving.  It's called cortisol.  After reading the word cortisol, most of you will think 'stress.'  Stop it!  Cortisol is not a stress hormone.  Cortisol is a survival hormone.  If you don't have the ability to release this hormone, you don't survive the lion attack.
Waking up shouldn't be stressful, right?  But if you don't wake up, well, you're dead.  First thing in the morning you will get a surge of cortisol that finds stored sugar and releases that into the blood stream.  You're all set to get going.  Your body has you covered as you go hunt for food.  Could it be that our epidemic of adrenal imbalances is that we are being the helicopter parent for the body in the morning?  We are dumping sugary food items into the system, when the body already has that role.  Could we be conditioning the adrenals to NOT do their job then get mad when they can't do their job later?
Millennials aren't lazy.  They just have a learned behavior since mommy and daddy did everything for them, with the good intent of avoiding challenges, yet creating the unintended consequence of the inability to push through hurdles.  Maybe your adrenals are the millennials of your endocrine system.
The problem with breakfast is that we feel we have to eat 'breakfast foods.'  If it doesn't fall into the category of a flour based pastry, shredded potatoes, eggs, milk, or pork, then it's not breakfast and for some reason that screws with our mind so much that we become paralyzed with uncertainty with what we should eat.
When in doubt, don't eat anything.  You'll survive and actually thrive. Your body has more defense and intelligence against under eating than over eating, especially when you're adding more sugar load (cereal, toast, oatmeal, juice) to the one that is already being produced by your internal survival system.  We wonder why kids can't sit still at school and then crash mid morning.  We give them rocket fuel to start the day but starve them of diesel fuel to sustain flight.
If you want to eat something, why is it so absurd to have a steak and salad for…wait for it…breakfast?  Will you get taxed if you use your grill for breakfast?  Why not a can of tuna and some cucumbers?  Soup for breakfast?  The absurdity.  I mean, it's so different than the floating chunks in liquid that we call cereal and milk.
Our morning standard is eggs and fruit.  Yes, eggs are easy but many that are on an auto-immune protocol avoid eggs, grains, and dairy.  Because this eliminates the block of traditionally condition breakfast items (and dessert), it's a real mental block in meal planning.  Just remember it's OK to eat what you would for lunch or dinner, just earlier in the day.  It's even OK-er to not eat all and wait a bit.  Your gut will thank you, whether it's a leaky one or one that resembles a spare tire.  If you need help, you know how to find me.