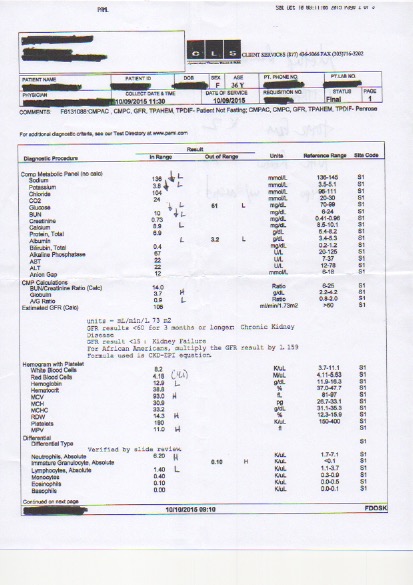 I had a woman contact me the other day.  She is 7-8 months pregnant and on her third pregnancy.  The first two have been fantastic and the kids have rockstar health.  This third pregnancy, she has been feeling more fatigued than the other two.  She was just attributing it to being a stay-at-home mom with two other toddlers and the physical and emotional load from chasing them all day.
At her last pre-natal appointment, the baby had a minor heart arrhythmia.  After having two pregnancies with no worries at all, this raised her concern a bit.  Truthfully she was freaked out.  At her previous appointment, some routine lab work was done.  With the increased fatigue and now a fetal heart arrhythmia with the baby, I said, "get me those labs."  She said, "Why, my provider said everything looked fine."  I said, "Those lab values suck."
Those Lab Values Suck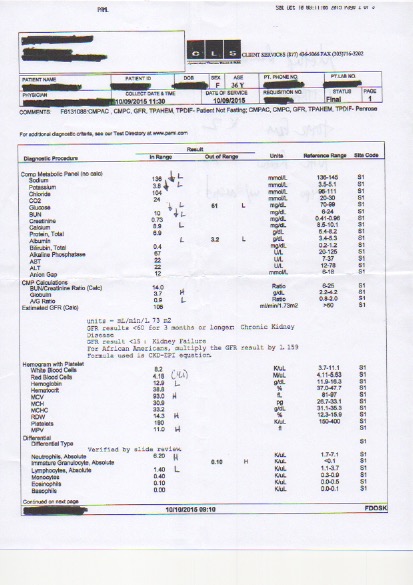 When you look at the image, you will see all the different analytes measured.  On the right side, you will see the reference ranges.  I can't stress enough that these values lump 95% of the population into the 'normal and healthy' category.  With 70-80% of healthcare claims are for chronic illness, there's no feasible possibility or probability that 95% of the population is 'normal and healthy.'
In the middle of the image, you will see the 'out of range' values.  For this woman, there were 3 values 'out of range.'  Glucose, albumin, and immature granulocytes.  Her provider said that low albumin is often seen in pregnancy and is not a big concern.  I beg to differ.  Yes, low albumin is often seen in pregnancy but shouldn't be swept under the rug.  Albumin is the main constituent protein in the blood.  It serves to transport hormones, vitamins, minerals,fatty acids, enzymes, amino acids, and drugs.
Yes, it may be low in pregnancy but that doesn't mean it's a good thing.  For that one value, think of the implications for mom and baby.  If there isn't enough carriers for all the building blocks for the baby to develop as well as to provide mom the essentials for survival, is it a wonder mom is overly fatigued and baby has an arrhythmia?  I digress.
[bctt tweet="If we are going to use labs as a tool to assess prevention, then we have to analyze it in a range that is preventative."]
On the image, you will also see some hand writing.  That's my assessment for your viewing pleasure.  When I do a lab analysis, I import the values into a spreadsheet for easy tracking and meticulously write a report on all the intricacies of everything.  To make my point here, I wrote on the actual labs.  You will see I have flagged 15 values.
The point isn't to freak mom out anymore than she is but to uncover hidden dysfunctions that get labeled as 'normal,' that would explain why she is fatigued as well as the baby having an arrhythmia.
Another reason your lab values suck is that when you have a blood draw, it's testing for what's in the blood.  No duh, right?  There's another piece to the puzzle that helps explain why you feel like junk, ESPECIALLY if you've already taken the steps to greatly improve your lifestyle.  That missing/hidden piece is what happen INSIDE the cell.  The blood measures around the cell but misses some key functions that happen inside of the cell.
For this, I love a test called an Organic Acids test.  I'll tell you straight up that your doctor has no idea what this test is and there's probably a massive probability that he/she won't order it for you.  One of the reasons I like this test is because it's a urine test, no needles, just some some skilled ability to aim first thing in the morning.
The Organic Acids test is like an emissions test for your internal combustion and energy processes.  It's a nutritional test providing insights into organic acids and a view into the body's cellular metabolic processes. Organic acids are metabolic intermediates that are produced in pathways of central energy production, detoxification, neurotransmitter breakdown, or intestinal microbial activity. Marked accumulation of specific organic acids detected in urine often signals a metabolic inhibition or block. The metabolic block may be due to a nutrient deficiency, an inherited enzyme deficit, toxic build-up or drug effect. Several of the biomarkers are markers of intestinal bacterial or yeast overgrowth. This organic acids nutritional test is valuable for determining:
Functional vitamin and mineral status
Amino acid insufficiencies like carnitine and NAC
Oxidative damage and antioxidant need
Phase I & Phase II detoxification capacity
Functional B-complex vitamin need
Neurotransmitter metabolites
Mitochondrial energy production
Methylation sufficiency
Lipoic acid and CoQ10 status
Markers for bacterial and yeast overgrowth
The point is that if we are going to use lab work as a tool to assess prevention, then we have to analyze it in a range that is preventative.  Waiting until lab values are out of the normal reference ranges to take action isn't prevention, it's reaction.
If your lab values have come back 'normal' but still feel like crap, then have your labs interpreted in a functional manner.  The beauty is that you don't have to be local.  Contact us for your functional lab analysis or if you're interested in an Organic Acids test kit.  It's not free but will save you lots down the road.  It costs less to stay healthy than stay sick.