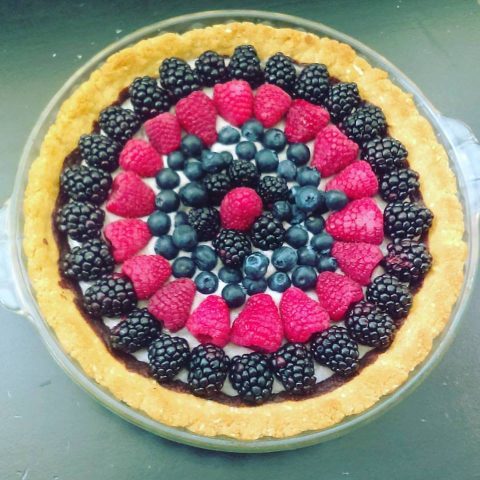 Gluten-Free, Paleo-ish Fruit Tart
Almond Cookie Crust
6 tbsp raw honey
2 cups Almond Flour
1/2 tsp baking Soda
1/4 tsp salt
2 tsp Vanilla
4 tsp Coconut Oil
1/2 cup coconut flakes
Mix the dry ingredients together in one bowl.  Mix the wet ingredients together in another bowl.  Then combine.
Bake in pie plate at 350°F 8-10 minutes or until golden brown.  Allow to cool completely.
Inspired by www.sweetandsavorybyshinee.com
Chocolate Layer
1/2 cup coconut oil
1/4 cup honey
1/2 cup cocoa powder
1/2 tsp vanilla
1/8 tsp salt
In a small sauce pan, melt coconut oil and honey over low heat.  Remove from heat and stir in remaining ingredients. Pour over the cookie crust and place in freezer for about 15 minutes or until chocolate is hard.  You may want to keep in fridge as you prepare the custard layer.
Inspired by the chocolate layer at www.wholenewmom.com
Custard Layer
1 cup coconut milk.  The thick stuff.
1 Tbsp coconut oil
2 eggs (room temperature)
1/4 tsp vanilla
1/4 tsp cinnamon
Pour the coconut milk into a saucepan and bring to a simmer.
Whisk in the eggs, coconut oil, vanilla, cinnamon to the pan and then remove from heat.
Continue to whisk for 4-5 minutes or until slightly thickened.
Cool by itself before pouring over cookie/chocolate layer.
*** My amazing wife who made this dish says this is the hardest part.  It was her first time making custard and the texture wasn't what she was hoping, though it tasted amazing.
Inspired by www.paleocrashcourse.com.
Toppings
Make pretty with berries or other fruit of your choice.  Keep finished product in fridge until ready to serve.