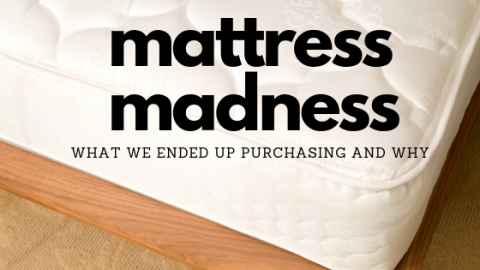 My wife and I decided to get a new mattress. The one we had was only 4 years old but ended up being a piece of junk. I still remember the day we bought it.
It was Super Bowl Sunday about an hour before kick off. No one was going to be out shopping. As soon as we entered the store the salesperson yells, "I'm ready to wheel and deal." We said nothing and walked around. About an hour later, without us saying a word, he had talked himself down to $500 from a $2,000 mattress. We'll take it.
Bad choice. It's only 4 years later and that mattress is as wavy as a day at the beach in the Outer Banks. You can see the peaks and valleys. We're not big people at all. We can't take it anymore. But this time around we knew what we wanted.
Being a chiropractor, it's not what you think. Our decision had nothing to do with lumbar support, memory foam, or the ability to inflate or deflate the mattress.
This time around, it's all about decreasing the toxic pool of industrial poison that is the modern day mattress. When our kids were born, we looked for non-toxic and organic mattresses. Now it's our turn.
Survey Says?
We ended up ordering an Avocado mattress. It's supposed to be firm, and that's all the support we cared about. What we really cared about was that they make it sans polyester, polyurethane foams or toxic fire retardants. The mattress features 100% natural latex rubber, 100% GOTS organic certified wool, and 100% GOTS organic certified cotton, and a crap load of coils. No polyester or rayon fibers are used. And there are NO petroleum-based polyurethane foams, NO memory foams, NO chemical adhesives between the comfort layers, NO chemical fire retardants and NO ozone-depleting substances used.
Avocado mattress is GREENGUARD Gold Certified by UL Environment for low emissions. It means they're scientifically proven to meet some of the world's most rigorous, third-party emissions standards for chemical exposure and pollutants, such as volatile organic compounds (VOCs), formaldehyde and phthalates.
I'll get to try it out tonight, and for the next 99 nights. This was one of the pitfalls of the 'good deal' mattress we purchased 4 years ago. We couldn't return it, or we definitely would have.
I did get a text from my wife that it was delivered and it is heavy, like 100 pounds heavy. So maybe there's more risk in back injury from moving this mattress than lack of fancy spinal support. Here's to a good night's sleep.