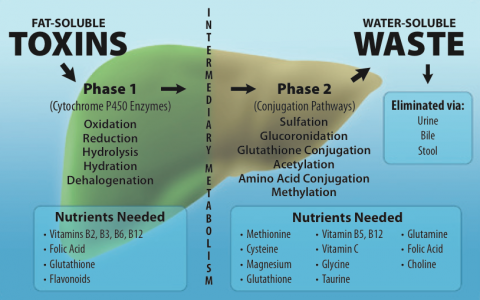 A lab result I am seeing more and more of, especially in women, is an elevation of 2-methylhippurate.  Your standard lab tests won't have this but instead is a part of a panel I often run on clients called organic acids.
Excretion of 2-methylhippurate is a sensitive and specific marker for xylene exposure.  Produced from coal tar or crude oil, xylene is used as a solvent for paints and paint thinners, and its vapors are released from many building and decorating materials such as varnishes and new carpets.  But don't limit your perceived exposure to just industrial type applications.
Xylene Exposure
Dig a little deeper into your personal care products that include paints and dyes.  Check your nail polishes, hair dyes, nail polish removers, and make up.  For your kids, it's often in markers (permanent or dry-erase).  You know that distinct maker scent?  Probably xylene.  The ironic thing is that many of those markers are labeled 'non-toxic.'
If you're looking for xylene, you may also see it under these names: BENZENE, DIMETHYL; BENZENE, DIMETHYL-; DIMETHYL- BENZENE; DIMETHYLBENZENE; META-XYLENE; TOTAL XYLENE; TOTAL XYLENES; XYLENE (MIXED) ; XYLENES; XYLENES (TOTAL) ; BENZENE, DIMETHYL-
What's the bid deal about it?  Xylene exposure increases oxidative stress.  Oxidative stress is essentially an imbalance between the production of free radicals and the ability of the body to counteract or detoxify their harmful effects through neutralization by antioxidants.  One of those main antioxidants the body attempts to produce is glutathione.
So what's the big deal?
An overburdened oxidative stress load internally acts just like your external stress load like fear, worry, fast food, and too many selfies.  It shifts the body into protection and away from growth and repair.  One of the first functions that gets limited when your body makes this shift is detoxification.
You don't only need to detoxify external chemicals but also your hormones and neurotransmitters.
If detoxification is impaired, you may not suffer from just a chemical over burden but also a hormone and emotional overburden as these compounds are affected as well.  Depending on the person this could be an irregular menstrual cycle, it could be that it takes longer to let things go emotionally, an increase inflammatory load, and many more possibilities.
I'm not saying xylene is a cause for these things but is a contributor to the body which is already over toxified (my wife's term).  Should you do a detox?  It's not an easy answer.  Remember that the detoxification process is one of the first processes that gets limited during a shift into stress.  So forcing your body to leach toxic materials into a system that can't handle it, may cause more harm than good even though the intent is pure.
Instead, you have to address the underlying stress load (allostatic load).  Part of that is your xylene exposure.  But overall your strategies have to include the deficiencies and toxicities caused nutritionally, physically, emotionally, spiritually, and even socially.  So this post is more of a public service announcement of xylene exposure awareness.  I thought about starting a fake non-profit awareness group and organizing a 5k like pharmaceutical companies do but I'm not that ambitious.
 Need help assessing your toxic burden load or strategies to repair that damage occurring?  You know how to
find me
.