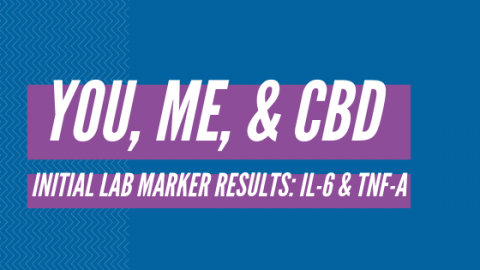 Because I feel well overall, the CBD experiment for symptom improvement wasn't really a good marker of changes to show effectiveness. With that said, I will say I feel my energy levels are more…level. I sat through a conference last weekend with lots of traveling and sitting. With all that sitting and absorbing deep concepts of learning, a nap is usually welcomed and anticipated. But I needed none of it.
I'm not conditioned for sitting for long periods of time. At the office, I have a standing station. At home, I'm more apt to lay on the floor than sit on the couch if watching TV. Historically, sitting through a seminar and traveling, my low back is pretty tender by the end of each day.
On both of those accounts, energy stayed level and low back felt great despite all the sitting. So there's that.
Baseline Lab Results
What I was anticipating was the initial lab markers. I tested 2 things, IL-6 and TNF-a.
IL-6 and TNF-a are massive indicators, predictors and even cause agents in a number of conditions like: Heart disease, cancer, diabetes, pain, RA, Fibromylagia, MS, Lupus, asthma, IBS, IBD, Crohn's, major depressive disorder, bipolar, schizophrenia, Alzheimer's, osteoporosis, PCOS, diabetic neuropathy, etc.
Some of the biggest benefit claims of CBD are anti-inflammatory.
My IL-6 value came back at <0.7 pg/ml (range is 0.0-12.2). Less than what they can measure.
My TNF-a came back at 0.8 pg/ml (range is 0.0-2.2).
Based on these initial markers, I doubt that there will be much improvement with CBD. I'm pretty pleased with those starting results and confirming on track with my lifestyle choices.
What makes me chuckle about these results is that my diet is still 75%+ meat. I still eat an animal based diet (see August). It's not exclusive like it was back in August but is the overwhelming dominant food item that goes into my belly.
I chuckle because all you hear in the media is propaganda against meat consumption and the claims that it causes every disease imaginable from diabetes, heart disease, cancer, and everything inflammation. At least for me, that's not the case and it looks like I'm thriving with my meat heavy diet. Though my initial experiment was only 30 days and showed great results, we are now 6 months later and seeing the same positive trends without much change in other areas of my lifestyle.
So maybe before thinking CBD will cure everything, you should channel your inner carnivore first.